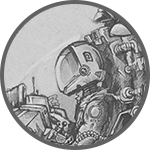 CLIENT _
Self-initiated
TOOLS USED _
Pencil, paper, ballpoint pens
CATEGORY _
Sketchbook, illustration

 
SKTCHBK: Robots
__
Have I already mentioned I like drawing robots?
Drawn from reference images or just completely from my own imagination.
Either way, it is a great way to push your creativity with no limits but those of your own imagination.
Working hours on end on shading and looking for shapes, is a great way to improve your drawing skills. And of course, it is a lovely way of watching the hours passing by.
Don't forget to check out my other post about sketching animals.