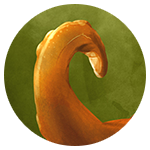 CLIENT _
Self-initiated
TOOLS USED _
Pencil, paper, Adobe Photoshop, Wacom Cintiq
CATEGORY _
Digital painting


HOW TO PAINT YOUR DRAGON
__
A while back, I made this illustration of a dragon on A3-sized paper.
I liked the combination of the chubby dragon, the sea horse and the lizard. As I was pleased with the result, the sketch became the basis of a digital version.
Check out the full process on my blog.
Here are some close up views from the little chunky lad