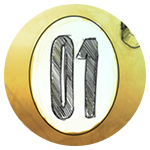 CLIENT _
Self-initiated
TOOLS USED _
Adobe Photoshop, Wacom Cintiq
CATEGORY _
Digital illustration

 
FUTURISTIC RACE CAR
__
A great way of practicing your illustration skills, is to go out and sketch. Kind of scary at first, but you will become more confident and you will be able to use every second of the day as creative time, for example while waiting for your dates or while sitting on trains. I tried the digital version, just start screen capturing your canvas and go! No reruns, no deleting files… just fun times!
The end result was kind of unexpected, but I was very pleased with this one.
Now it is your turn..
Created using: Photoshop, Wacom Cintiq & Quick time screen recording