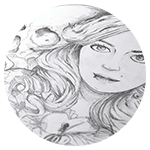 CLIENT _
Sam
TOOLS USED _
Pencil, paper, Adobe Photoshop, Wacom Cintiq
CATEGORY _
Design, illustration

 
SAM'S INVITATION
__
If you have read my other post (tangled up in space), you already know…. I kind of have a thing for skulls. This project had a great briefing: creating an invitation that has the look and feel of a tattoo. Sounds good, right? It got even better: with hot chicks, music, motorcycles and skulls.
I pushed myself in trying to combine the elements physically in one drawing, instead of making them separately and creating the composition digitally.
I made different color schemes but the customer chose a toned down version in the end. The first video is the timelapse showing the illustration being drawn. The second video is the digital part of the illustration.